Fire-Baptized Holiness Church of God of the Americas
General Council held 1998 in Greenville, South Carolina
Scenes from FBHCGA Centennial Celebration
The Twenty-Seventh Quadrennial General Council of the Fire-Baptized Holiness Church of God of the Americas, a sister church of the International Pentecostal Holiness Church, was held June 9-15, 1998 at 901 Bishop W.E. Fuller, Sr. Highway, Greenville, South Carolina. Presiding at the General Council was Bishop W.E. Fuller, Jr, son of founding Bishop W.E. Fuller, Sr., who served as Assistant General Overseer to Fire-Baptized Holiness Church General Overseer J.H. King in 1905. Bishop James D. Leggett and Dr. Harold D. Hunter were warmly received for the FBHCGA Centennial Celebration on June 11. A warm welcome was likewise extended to Dr. Vinson Synan who participated in a drama on the evening of June 12.
Click on pictures to enlarge

Bishop Frazier, Bishop Leggett, Bishop Fuller, Jr., Dr. Hunter, Bishop Roach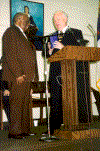 Bishop Leggett presents IPHC centennial coin to Bishop Fuller, Jr.

Dr. Hunter addresses the council

The evening preacher

In front of the Octagon Building in Falcon during the IPHC Centennial are: Dr. Hunter, Bishop Fuller, Jr., Bishop Leggett, a FBHCGA minister, and Bishop Frazier.

The scene outside the octagon building after the IPHC centennial communion service.